Because I love it, I am sharing my copy of Selena De Vries, RD's July newsletter.
Subscribe to receive your own copy at the top of healthbean.ca/home. Enjoy!
………
Hello Ellen,
With this kind of heat, it must be summer! Hope you are keeping cool during this time. This month is all about navigating ongoing symptoms, easy recipes for when you're on the go and discussing tips on how to enjoy eating out while avoiding cross contamination!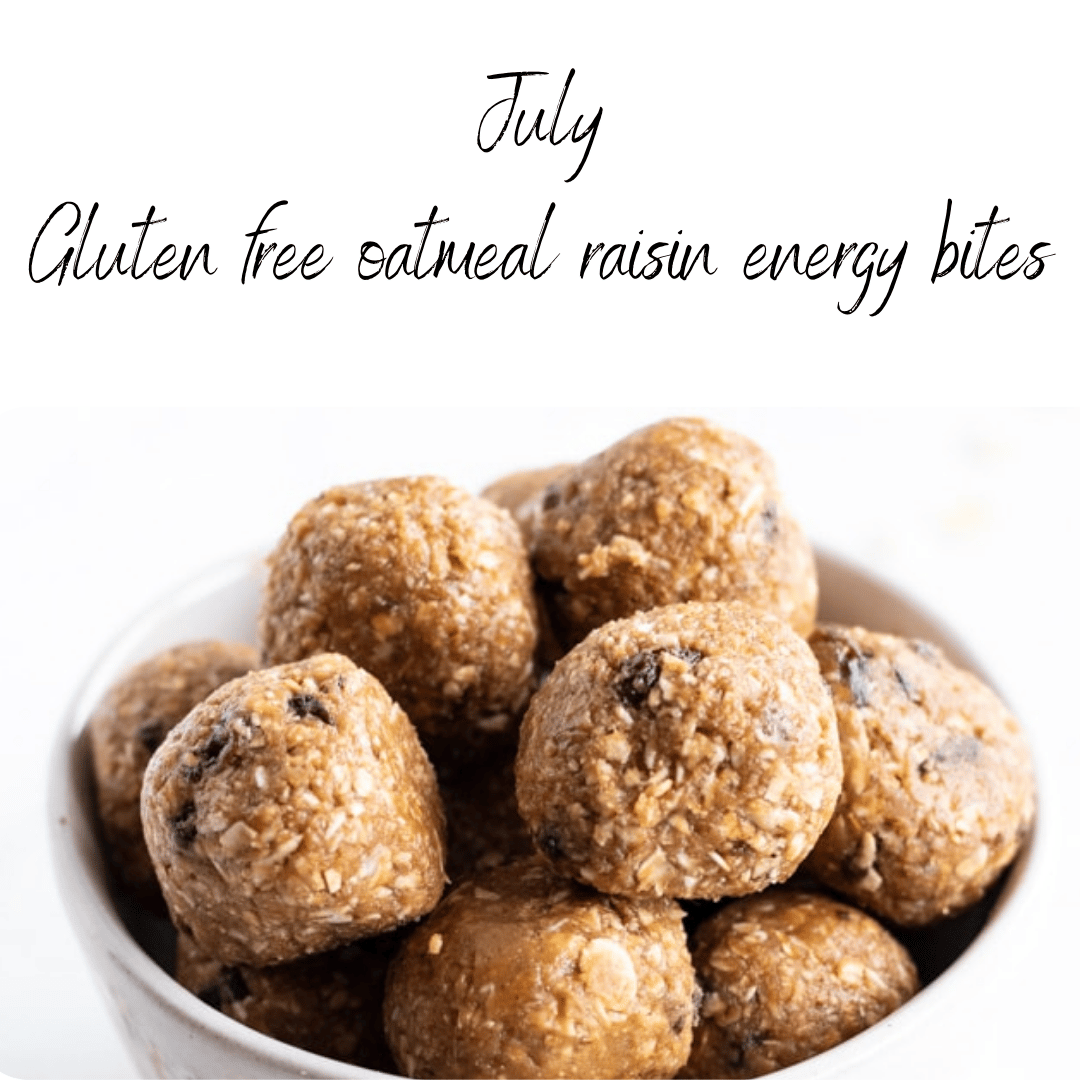 Ingredients:
1 cup Rolled Oats (use gluten-free rolled oats for gluten-free)
1/2 cup All Natural Peanut Butter
1/4 cup Pure Maple Syrup (plus extra depending on the consistency of the peanut butter)
1/4 cup Unsweetened Shredded Coconut
1/4 cup Raisins
1/2 tsp Cinnamon
1/4 tsp Salt (optional)
Directions:
1. Place oats and peanut butter in a food processor. Pulse until the oats are coarsely ground and just mixed with the peanut butter. (A handful of times should do the trick.)
2. Add ¼ cup maple syrup, coconut, raisins, cinnamon, and (optional) salt. Pulse until well mixed. (If the mixture seems to too dry – the consistency will vary depending on the peanut butter used – pulse in more maple syrup a tablespoon at a time until the desired, slightly sticky, easy to roll, consistency is achieved.)
3. Using clean hands, grab a small amount of the mixture and roll into a roughly 1-inch sized ball. (The mixture will be slightly sticky.) Place the ball on a parchment-lined pan and repeat with remaining mixture.
4. Once finished, place in the freezer until no longer sticky. Transfer to a freezer-safe container for storage. (You can store them in the fridge, but I like to store them in the freezer until I'm ready to enjoy a bite or two.) When ready to eat, let thaw (if frozen) for a minute or two before enjoying.
​Selena's Instagram Corner:
Have a lot of greens in your garden? Try this delicious pesto. Add to sandwiches, wraps, eggs, toast, potatoes, or dilute with a bit of water for a simple, salad dressing!
Have you been keeping up with me on IG? Below are some posts from IG, everything celiac related from recipes to education.
Not following me on there yet? You can do so by clicking here.
---
You may be eating out more often now, now that restrictions are lifting and it is summer time. Here are some tips for reducing CC when ordering a burger!
Tuesday Q&A on IG Stories: Here's a question that was submitted and the answer:
Question – My doctor isn't helpful. They just state I need to be 'more strict' with my diet in order to feel better. How do I get them to help me with ongoing symptoms?
Answer – This is all too common, unfortunately. The best thing you can do is go in prepared with the following information.1. Document your bowel movements and, even better, bring some pictures. Yes, doctors (and GI dietitians) have heard and seen it ALL before. Don't be shy!2. Know your symptoms – is it gas, bloat, abdominal pain? Note it down and document where it is happening (above or below belly button? Right or left side? and how severe is it? For example, if it is bloating, it can also be helpful to bring in pictures of it so they can visualize what is happening.3. Bring in a list of medications and supplements.​
If you are still not getting the attention you feel you deserve, book in with myself, a registered dietitian.
A regulated health professional can advocate on your behalf and explain the reasoning for recommendations which can help get your doctor on our side. I am booking 1:1 appointments for late August/early September.Have a question on celiac disease? Then, pop on to IG stories on Tuesday and throw your question in the question box
Warmly, Selena Devries, fellow celiac and registered dietitian.
About Selena
Selena De Vries is dedicated to helping individuals struggling with digestive issues find food freedom. Selena understands that celiac disease not only effects one's physical health but also effects one's emotional health. Using an integrative approach in the management of digestive health conditions, she provides support for those with celiac disease/gluten sensitivity and nutrition coaching for other digestive health conditions.
Selena's services are available online to anyone in Canada. Living in the Okanagan or anywhere in British Columbia? View Selena's services or book an appointment!



https://theceliacscene.com/wp-content/uploads/2020/07/Selena-De-Vries-RD-3.png
357
323
Ellen Bayens
/wp-content/uploads/2014/12/TheCeliacSceneLogo-575X156.jpg
Ellen Bayens
2021-07-08 14:32:32
2021-07-08 14:58:04
Are You Receiving Selena De Vries, RD's Monthly Newsletter? Here's Your Copy!